Joined

Jul 2, 2006
Messages

1,552
Location
I worked the Idaho Open Carry booth at the Fort Boise Gun Show this morning with Tony, and it was an interesting experience, to say the least.
We were able to speak to and educate many, many people as to their rights, and generally enjoyed a positive reception.
For the first hour or so, Tony and I both carried our weapons without zip-ties, as we knew our state preemption law forbade any enforcement of any regulation regarding the possession or carrying of firearms in the county-owned building (please note, I am not really interested in people's opinions as to whether or not it is a safe practice for a gun show; it is legal under state law). I was actually approached at one point by an event security dude who said, "That's really cool! Do you need a zip-tie for that?" I replied politely, "No, I'm alright, thanks," and he wandered off.
At some point, however, it did become an issue, and we were both separately approached with demands to show clear and zip-tie. Tony was speaking with another event official elsewhere while I was manning the booth, when I was approached by one of the gun show organizers who demanded I zip-tie and showed me his printed "rules" which he insinuated that I had to follow. I was in the process of politely explaining the state law to him when some no-gooder decided to stick his nose where it didn't belong. A liberal, you may ask? I wish I could say so.
Unfortunately, you see, we were directly across the aisle from Alpha-Omega, a known anti-open carry business. The fat slob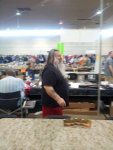 they had working their booth decided he just had to get involved in the conversation I was having with the event organizer, and loudly and physically inserted himself (after he waddled over, of course). He got right in my face and told me that I was "ignorance personified" and "giving all gun owners a bad name." I repeatedly asked him politely to butt out of my private conversation. He then (while inches from my face) demanded that I go outside, clear, and zip-tie, and said that if I did not, he would "take you out of here!" I informed him that he would not be putting his hands on me, at which point he became even more angry and said, "We'll see about that! I worked 29 years in the DOJ, I've spent thousands and thousands of dollars putting these shows on, etc. etc. etc." I told him that I was not interested in his private business, and then returned my attention to the event organizer. As he was an older guy in a wheelchair, I got down on one knee so I could speak with him face-to-face. At this point, fat slob gets EVEN CLOSER, leaning down and screaming at me, while the old guy was trying to hold him back, saying, "Dave, I'll handle it." I felt threatened, so I stood up, put a little distance between me and the slob, and told him that he was very nearly committing assault and to be careful. He continued to wave his hands around in my face while yelling and causing a scene, so I backed up and waited.
At some point, he retreated back to his own booth, but still harangued me from across the aisle, again contributing to a negative scene which all the bad open carriers in the world could not have equaled. I waited for Tony to get back from speaking to security, and then we both zip-tied and waited for the Ada County Sheriff to arrive (fat slob was pushing to have us arrested). Fat slob also took my picture and made some kind of vague "LEO-club" threat about me being hassled in the future (I asked if he made sure to get my good side).
An Ada County Sheriff's deputy did arrive after nearly half an hour, and told us that we were not doing anything illegal, but that the event organizers could make us take our booth outside. In order to continue spreading awareness, we complied with their rules, but this fight is not over yet.
What is especially strange to me is that this is the same facility I was initially denied entrance to at the Western Idaho Fair, until I stood my ground and the head security guy cleared up the confusion.
As I was getting ready to leave, my friend Mike and I took pictures of the fat slob, and he had the audacity to whine that "There is no audio/visual recording here! That's a crime!!!" When we pointed out that he did it, he said, "I'm allowed to."
Needless to say, don't spend your dollars with Alpha Omega.
On a comical note, fat slob got a McDonald's delivery from some of his grabass friends while Tony and I were speaking. As he, dressed in gym shorts, flip-flops, homeless-style hair, and carrying about 200 pounds of gut, stuffed his face with french fries, he had the nerve to tell me again that I was reinforcing the stereotypes about gun owners. LOL!!! I just told him that the next time he threatens me, it would be more believable if I wasn't convinced he would die of a heart attack just by working up a sweat. Yes, smart-ass, I know, but I don't feel he deserved any better.
Overall, I thought I did an OK job of keeping my cool despite the fact that he had me hotter than hell in July (Tony was so cool, he was like an ice cube - I need to learn from that).
...aaaaaaand good times were had by all.
Last edited: