Joined

Aug 21, 2011
Messages

305
Location
MS. Becomes State # 9 CCW with no permit "Gov. Bryant Signs The Church Protection Act
CONGRATULATIONS MISSISSIPPI
The Governor signed the bill. This makes Mississippi the ninth state to have permit-less conceal carry (as long as it is in a holster).
In addition it allows church officials to appoint members to carry in order to protect it's congregation.
There was no mention when the law will take effect....
Gov. Bryant signs Church Protection Act
http://www.wdam.com/story/31736352/gov-bryant-signs-church-protection-act
"House Bill 786 allows residents to carry firearms in belt and shoulder holsters without a permit. It also gives church officials the authority to designate enhanced carry permit holders or those with military or law enforcement training to protect places of worship."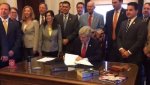 .
Last edited by a moderator: