Joined

Jan 22, 2014
Messages

171
Location
I'm just meaning that there are serious drawbacks (in my mind) to carrying a single-action revolver for self-defense. First and foremost is that you have to cock the hammer each time, which seems to make quick follow-up shots much slower. Then besides the capacity (part of the reason I'm biased against revolvers, plus they've never felt comfortable in my hand), don't a lot of them have to be unloaded and reloaded one round at a time?

True, the imposing hole of a .45 barrel is going to give most people pause, but that's usually when face to face. Any farther and it's going to have less effect. I just believe there are better options out there.

And yes, it's better to carry something - anything - than to not carry at all.
With a 7 1/2 inch barrel, I can reach out and touch someone. Let's put it this way DaveT, I would not want to be shooting at myself at 50 to 75 yards, I would hit myself.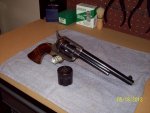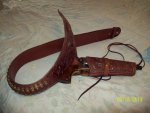 But to put your mind at ease there DaveT, since I posted my first comment on here, I did buy a new Hi-Point JHP .45 ACP, and a uned Llama .380, so now I have more of a choice as what to carry.
Last edited: