Joined

Mar 7, 2010
Messages

724
Location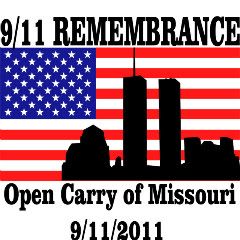 This Sept 11th is the 10th anniversary of the the devastating attacks on the American people. As we the people of this community here at OpenCarry.org are filled with true American patriots. I am inviting everyone to join me in a family styled gathering at the park to remember the loss of our fellow American and cherish the freedoms that we as American have here in "The Home of the Free and the Land of the Brave"
This gathering is what you want to make of it. I have the gazebo reserved in Gentry Park Which is Located in Bridgeton Mo. You can contribute to the dinning end of things and come eat and enjoy the company of your other proud Americans or just come and say hi. There are public restrooms and a large kids playground very close by. I looked and found no restrictions to either Open Carry or Conceal Carry other than those mandated by the state.
I have designated a logo'ed shirt for this event and it is for sale here.
http://www.cafepress.com/OCMOfor911
Any and all proceeds I make from the shirts and or other items on sale here($4 per shirt $2 other items) will be donated to "The Twin Towers Orphan Fund".
http://www.ttof.org/html/
If you wish to commit to assisting to the gather I will list you below so we can see what we have.
Gazebo rental $35
Doc, $5
Meats
Doc, 2 packs of hot dogs and buns
Side Dishes
Deserts
Drinks
Grill Masters and cooking supplies(the park has 2 grills but I need someone to man them)
Doc, 1 bag of charcoal
Other