Joined

Apr 13, 2011
Messages

1,693
Location
This was suppose to be my christmas present, last year. When it is finished it is going to be a thick winter blanket. It is roughly 4x8 now and will be 6x8 (more to wrap up in) when it is done. She decided to show me at the first of winter so I'll have it for the cold nights that she is away at school.
I just had to brag. Anyone from the EKY M&G knows I have a beautiful girlfriend, but she is also handy. All this is hand embroidered.
The iPhone doesn't take very good pictures, so these are poor quality pictures of a work of art.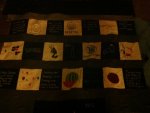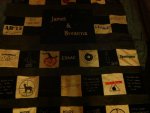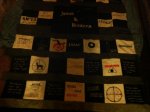 I think I fixed it, hope they work now. I don't know why it deleted them.
Half of all the blocks are quotes, most of the rest are targets that her and I have had and the rest are logos or symbols (S&W, AR/AK).
You'll notice a pumpkin (we tried to carve one from 150yds), a 300yd watermelon and spray paint cans that we used to paint "Bert". We have fun with high power rifles.
If anyone has questions, feel free to ask.
I was soo excited about my quilt that I had to share.
Last edited: