Joined

Jun 2, 2015
Messages

65
Location
I stopped by the LGS on Saturday with the intention of practicing a bit, but the place was absolutely mobbed. I ended up just wandering around for an hour looking at the used section and some of the other stuff I hadn't seen before.
I found THREE of these in their "used" case with the bands still on the grips. They had one stainless Compact, a standard in black, and I think one of the two tone standard size also.
http://www.coonaninc.com/pistol-showroom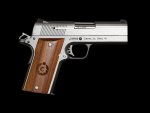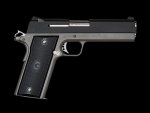 I originally passed them by glancing at the price tag and assumed they were an Ed Brown or some other high end 1911. I did take a closer look and noticed it looked funny, (larger grip, huge ejection port) and then I noticed ".357 magnum" on the side.... I had never even heard of it so I looked them up when I got home.
To keep it short and sweet, I'm seriously considering buying one just because it's a semi-auto .357 mag. There really is no other good reason to buy one other than that it's really cool. I'm sure many others can relate. It's really too big to carry comfortably, and regular practice would end in carpel tunnel eventually. Everything I can find online says that they were really well made and had very few if any feed problems. The only negative I saw was that even with the lighter (supplied) recoil spring, .38 +p was not very reliable. Oh, and price. I think the compact they had tagged for $1300.