Joined

Sep 2, 2011
Messages

758
Location
So my Wife and I are unable to have children. We have been waiting until we thought the time was right to adopt a child. We wanted to make sure we would be able to handle a child financially and emotionally. Plus we wanted to be able to enjoy the things we would not be able to do with a child around.
After researching multiple options for adoption and speaking with multiple people through DSHS and agencies they work with such as Fostering Together we found the best route would be to adopt through the State.
The adoption would be free except for legal costs. The only catch was that we would need to be licensed as foster parents and then we could foster children that are legally free so we could adopt. We were assured this would be the best route for us.
To begin the licensing process we needed to attend an orientation that was to last three hours. We chose to attend one located at the DSHS building in Tacoma. In order to attend you need to pre-register.
So we arrive at the building tonight and as we go in I see this sign.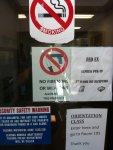 I had originally planned on OC'ing but chickened out at the last minute before leaving the house and concealed. I did this because I knew there have been issues with DSHS in the past.
We get into the class which only lasted two hours and not the three that was advertised. What a huge waste of time. It was run by two women that answered most questions with, "I don't know" or they seemed to be guessing. The first hour and 40 minutes were taken up with side conversations, useless video, and alot of babbling.
They finally got around to the requirements to be licensed in the last 20 minutes. I expected a background check would be required as well as a home study.
I did not expect a physical, TB test, HIV test, financial check, pet check, weapons check, alcohol check, and an incredibly invasive interview into your past starting with early childhood.
In order for you to get licensed they require all firearms be locked in a safe with the ammunition stored separately.
I asked what that meant for someone that carries a firearm.
They told us that we would be required to unload and store our pistol upon entering our home. We would not be allowed to carry it in a holster on our hip because of the liability.
They said they were having an issue with an individual about this very reason right now.
Someone else in the class remarked, "Well, that kind of defeats the purpose of having a gun."
There were a few nods of agreement.
Then the kicker. They finally got around to informing us that if we were there for adoption that you had to go through an agency and not though DSHS. They said the foster to adopt program does not exist in Washington. This was in the last 60 seconds of the class.
About half the class got up and walked out without getting there certificate of completion, my wife and I included. There were alot of very angry people who had been misled the whole time.
They also did not have enough packets for everyone in the class even though you had to register. They knew how many people would be there but still screwed it up. They had plenty in Spanish though.
I know that some of this was off topic but please understand my frustration. It's looks like my wife and I will have to shell out thousands to adopt after all.
Overall the entire thing seemed to be overly invasive. And what is the point of going through all this just to find out your license will be yanked for doing nothing illegal?
Last edited: